A leather jacket once owned by Nobel Prize winner Albert Einstein was recently sold for £110,500 at auction, i.e. about $150,000.
The buyer was Levi's, the company which had manufactured the very same 'Cossack' jacket in around 1935.
Einstein purchased the leather jacket when he was in the process of becoming a US citizen. He wore it frequently and there are many photographs showing him wearing it, including an iconic 1938 cover of TIME magazine.
It is reported that he even wore it on holidays in Bermuda (with photographic images to prove it).
It is understood that Bermuda was Einstein's stepping stone en route to arrival and immigration into the USA (as his citizenship application below indicates, in stating that his last "foreign residence" was Bermuda).
Christie's website and catalogue refers to the fact that Einstein wore the jacket in Bermuda, with some degree of precision: "Einstein is depicted wearing the jacket in numerous photographs in the mid- to late-1930s, including a famous image by Lotte Jacobi in 1938 and the cover image of Time magazine of April the same year. It appears conspicuously fresh in images of the scientist arriving for holidays in Bermuda on 25 June 1935, and it may have been acquired shortly before that date".
Einstein wore the jacket so often that Christie's specialist Thomas Venning has described it as: "an incredibly worn, rather pungent leather jacket."
That would provide further support for the proposition that the jacket was exposed to Bermuda's humid and mouldy atmosphere …
For relevant websites and more information, see: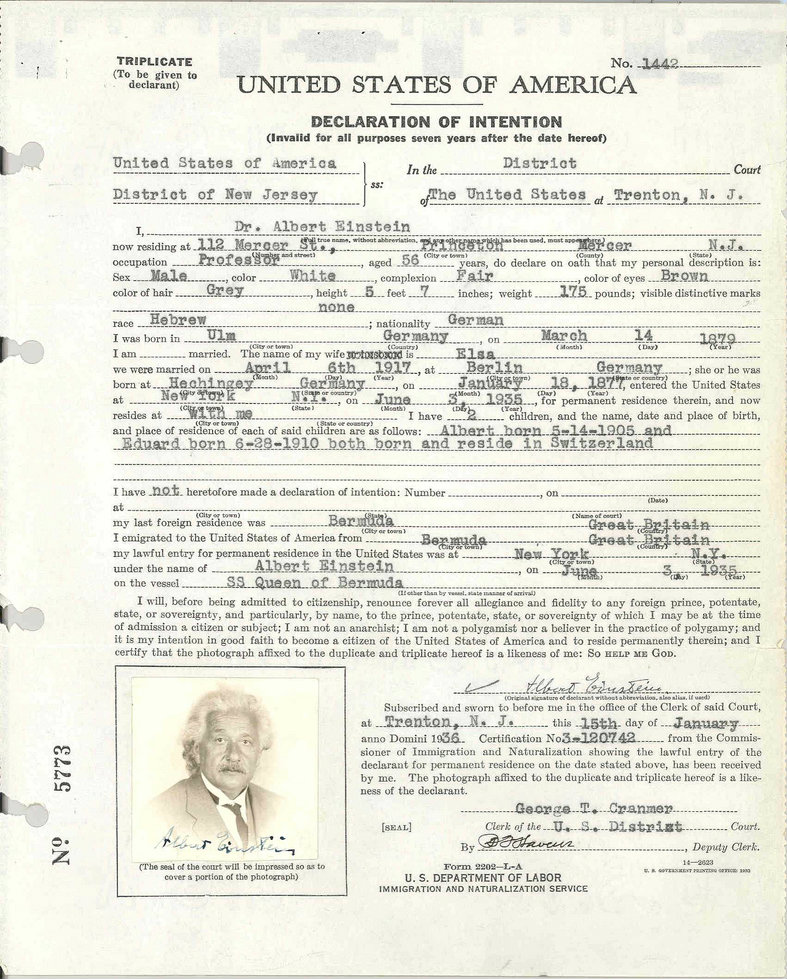 http://www.christies.com/lotfinder/textiles-costume/albert-einstein-6012465-details.aspx
http://www.christies.com/Features/5-minutes-with-Einsteins-leather-jacket-7510-1.aspx?w=180
Levi's Pays $147,000 for Albert Einstein's Cossack Jacket
http://www.businesswire.com/news/home/20160714005320/en/Levi-Strauss-Purchases-Iconic-Leather-Jacket-Owned
http://www.levistrauss.com/unzipped-blog/2016/07/the-genius-of-einsteins-style/
http://www.sciencealert.com/someone-just-paid-150-000-for-this-scientist-s-old-leather-jacket
There are some photographic images online of Einstein visiting Bermuda in about 1935:
https://www.smokersassociation.org/images/albert-einstein-before-his-departure-for-bermuda
http://www.alamy.com/stock-photo-albert-einstein-on-board-of-the-ss-monarch-of-bermuda-1935-36992953.html